Although Orkut's sibling Joga.com gives users the ability to change the appearance of their background, members of the "deep blue forums" were unable to alter Orkut to their desired taste--that is until GreaseMonkey came along.

Many users within the world of Orkut have found ways of altering their screen backgrounds with the aid of GreaseMonkey, a tool (for Firefox) used to alter a web browser's appearance (more info via Wikipedia).

Here are some of the best background hacks that I have seen thus far: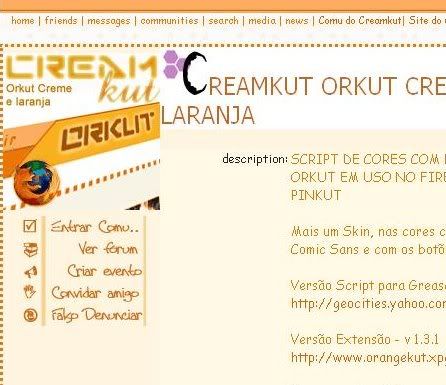 1) Creamkut gives Orkut a total face lift. What I love about Creamkut is the fresh look it gives by adding new font styles, borders and even replacing the original buttons with customized ones to match the hack. Creamkut also has an official forum for those with further questions.

Recommended for anyone looking to escape the basic baby blue colors of Orkut as well as spice up the overall look of the forum. (download script)

(Designed by Alex da Silveira Ceara)


______________________
2) Pinkut is a skin that makes Orkut...well pink. The design is not as beautiful as Creamkut, but it does add a "feminine touch" to Orkut, which many girls would probably enjoy. Pinkut also has
a dedicated forum
for those with questions or comments about this skin hack. (
download script
)
(Designed by Jacques, or
is it Julie
now?)
______________________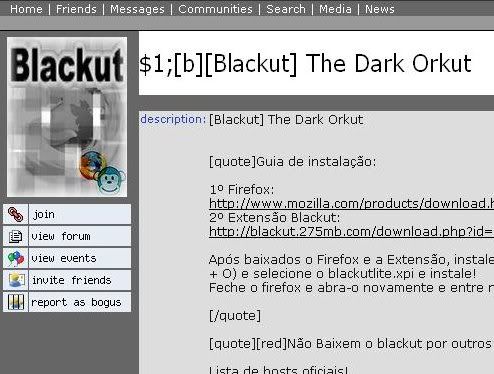 3) Blackut is for those who like their Orkut rather dark. Although it appears to me as if the skin makes it "grayer" than anything else. This skin piece also looks fairly well, and may be preferred for those who think that the baby blue color of Orkut is really dumb (although the color has a weird calming affect on the mind).
You can visit the
official Darkut forum
for further details and questions. (
download script
, or install directly
into Firefox
)
(Designed by Jacques)
______________________
4) Bluekut (not to be mistaken for
this Bluekut
which I misspelled) is for those who enjoy Orkut's blue background, and like Creamkut this is a complete hack as it covers not only the background and forums, but also the buttons as well. (
download script
)
(Designed by
Igor Thiago
)
______________________
5) Redkut is also a complete hack although you may notice spots not covered while surfing throughout Orkut. This hack kinda reminds me of blood, which may be cool for those either in the medical field or if you are into the "vampire" mood. Redkut has a
small forum here
, although from what it appears this skin does not seem to be as popular as the previous ones. (
download script
)
(Designed by
Marcella
)
______________________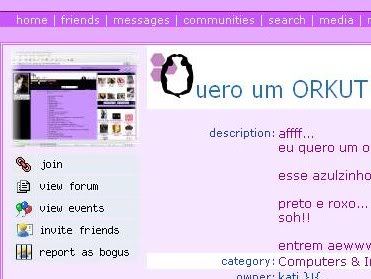 6) Orkut Roxo (or Purple) gives the Google forums a slightly romantic look. Also Designed by Igor, this skin would also be recommended. I am not sure if this is the
official Roxo forum
, but from all appearances it may as well be. (
download script
)
(Designed by Igor Thiago)
______________________
7) Orkut Verde (or Green) is for those who are feeling a little bit of Irish. This skin also has a very nice layout, and the green does make Orkut appear a little bit more "relaxing" than the baby blue, although it may wear out on you over time. Their is a
forum inside Orkut
dedicated to Orkut Verde where you can post further questions or comments on. (
download script
)
(Designed by Igor Thiago)
______________________
There are many other skins you can try out, although I posted what I thought were some of the best ones out there. More scripts are listed on
Igor's Orkut Scripts
page (as well as more Orkut tweaks). For those interested in customizing your own personal skin of Orkut, you can either try creating a GreaseMonkey hack or simply
download Orkut Cute
, the unofficial browser for Orkut.
If anyone knows of any other skins, feel free to let me know by posting below or
scrapping me
via Orkut.
Update:
Corrected some grammer.